Peter Fischli David Weiss
21st Century Museum of Contemporary Art
September 18 – December 25, 2010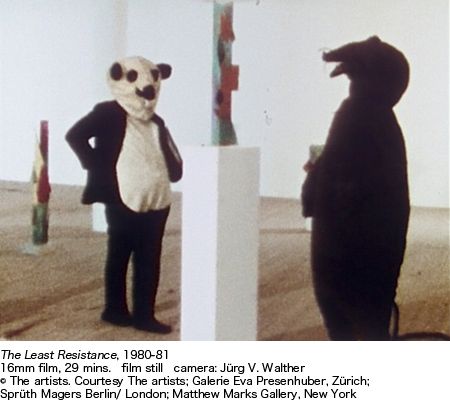 Traveling through an endless tunnel of changing light and color. A rat and bear go out on the town and through art and philosophy offer insights into the absurdities of the human condition. Everyday items teeter, precariously balanced. Energy passes by a whisker from one piece of junk to another, in a series of seemingly impromptu chain reactions. Airport scenes from across the globe float alongside a panoramic selection of this world's doings, big and small, rendered in ninety or so pieces of clay. Questions about life and the world that might occur to anyone appear and disappear, drifting ceaselessly through the air. In tiny black and white photos fairytale-like scenes have soft black contours. The tranquil, mundane everyday is suffused with wonder and chaos, tragedy and comedy, melancholy and nothingness.
Wielding a formidable armory of media from photography to sculpture to video and more with extraordinary flexibility, Peter Fischli and David Weiss focus intensely on familiar scenes and things, presenting divergent meanings and diversity of interpretation via a combination of meticulous planning and coincidence, throwing into relief the essence of the human condition in works shot through with irony and humor. We hope viewers will enjoy the strange wonder of Fischli/Weiss art, and their encyclopedic worlds suffused with an original, unconventional aesthetic.
21st Century Museum of Contemporary Art, Kanazawa