FOCUS: Erik Parker
Modern Art Museum of Fort Worth
December 5, 2010-February 6, 2011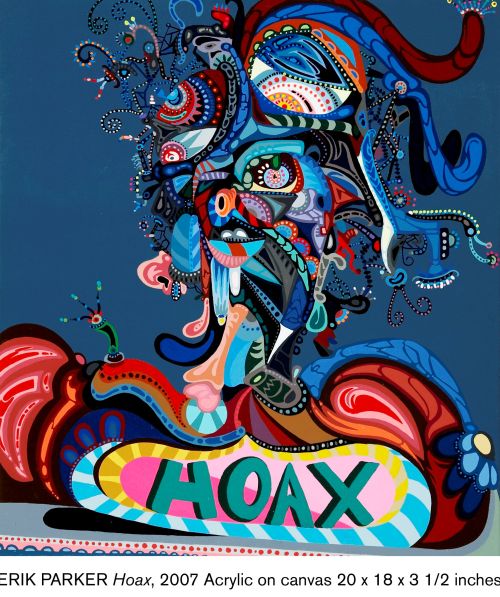 Erik Parker has described his work as "fragmented samples of our culture." A Texas native, Parker is known for his figurative paintings of disembodied, twisted heads that ooze vivid color and recede into themselves as much as they explode outwardly into the space around them.
Made with spiraling swirls of hot-to-pale pink, vivid oranges, yellows, greens, ranges of blue-from deep to swimming pool-reds, and purples, the figures are often set against dark backgrounds containing their own matrix of dots, paisleys, stripes, and waves. Accompanied by a word or phrase nestled somewhere in the lower half of the canvas, phrases such as Half Made Man, Player Hater, Betty Fords, Drama, Crime, Hoax, Why Me, Think Twice, and American Apparel label and suggest the state of each sitter. The words, when juxtaposed with the portraits, clearly speak to a wide range of cultural conundrums.
Erik Parker is an artist living and working in New York City. Born in 1968 in Stuttgart, Germany, Parker grew up in San Antonio, Texas. He received a BFA in 1996 from the University of Texas at Austin and earned his MFA at SUNY Purchase in 1998. Parker's work has been shown internationally in both solo and group exhibitions. Solo exhibitions include an upcoming show at Honor Fraser Gallery, Los Angeles, and exhibitions at the Paul Kasmin Gallery, New York; Marianne Boesky, New York; De Appel, Amsterdam; Taka Ishii Gallery, Tokyo, Japan; Leo Koenig Inc., New York; Gallery Charlotte Moser, Geneva, Switzerland; and Paolo Curti/Annamaria Gambuzzi & Co., Milan, Italy. Parker has shown in group exhibitions at Pinturas de la Colección Diezy7, Puerto de Santander, Spain; Faurschou, Copenhagen, Denmark; Florida State University Museum of Fine Arts, Tallahassee; Gallery Anne de Villepoix, Paris, France; Frankfurter Kunstverein, Frankfurt, Germany; Bronx Museum, New York (toured to Andy Warhol Museum, Pittsburgh; Walker Art Center, Minneapolis; Museum of Contemporary Art, Los Angeles); and P.S.1 Contemporary Art Center, L.I.C., New York.